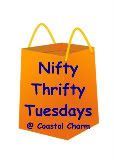 Last week I went Thrift Shopping in Murrieta and Temecula. It was a lot of fun and I saw a lot of nice things but I only picked up a few pieces of fabric and some patterns.
The blue with the Daisies is a sheet, I think I'll make a summer dress with it. The black with the tiny white Daisies is a polyester and there is only about a yard. I thought of my granddaughter right away when I saw it. I think summer shorts will be cute. She loves to draw flowers so perhaps I can get her to draw a Daisy and I can copy it on to a black tee shirt to match the shorts.
This pink blue and white stripe is a knit. I have not worked with knits since the 70′s but I thought for $1.79 I could try it again and if it comes out okay maybe I'll try some more. I think I have enough for a three quarter length sleeve sweater.

These are the patterns I got and the one on the right has not been used. Both are cute but the right one has button holes. I don't know how to make buttonholes but that is one of my goals for this year. The pattern on the left I got because it has shorts and a dress. My granddaughter loves to wear dresses with shorts underneath so this pattern is the perfect one for her.
Do you Thrift Shop? What have you found lately?